Rehiring a Terminated Employee
In Woven you have the ability to rehire a terminated team member. Using the rehire feature will make the onboarding for that team member easier. To rehire a team member:
1. Click the "Team Members" under the Management menu.
2. Click the "Terminated" tab
3. Search for the terminated team member you would like to rehire and click their name.
4. Click the yellow "Actions" drop-down
5. Click "Re-hire Team Member"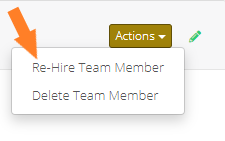 6. A pop-up will ask you to confirm that you would like to re-hire this team member. Click "