Instead of adding your assets into Woven one by one, you can add them in bulk by importing them via the "Import Assets" tab. To do this, you'll need to create a CSV spreadsheet for each location that lists that location's assets then upload it.
Update Settings Prior to Importing
Before importing, you must update Assets Settings. Learn more about updating Assets Settings. If you have already done this, review your settings as this will help you create your import file.
PRO TIP: For a quick review, select "Assets" under the Maintenance menu then select the "Import Assets" tab. Click the "Export Settings Data" button to download a spreadsheet that lists all possible combinations of asset values that Woven will accept.
Prepare a CSV Spreadsheet for Uploading
To import assets in bulk, you'll need to create a CSV spreadsheet for each location. For the column headings, type them exactly as they appear in the first row of the snapshot below.
PRO TIP: Select "Assets" from the MAINTENANCE menu then select the "Import Assets" tab. Select the blue "Get Import Template" button to open up a CSV file with the appropriately named and ordered column headings.
The rows below the column headings will each represent a unique asset. For instance, in row 4 of the below snapshot, we have a ProForm Treadmill with an Asset Tag Number of 100001.

Let's look a little closer at the column headings of your spreadsheet:
The first column heading is named, "Type," and there are four possible entries for it:

Equipment (e.g., treadmills, chest presses, tanning beds, massage chairs)
Facility (e.g., automatic doors, exterior signs, beverage coolers)
Mechanical (e.g., water heaters, HVACs)
Vehicle (e.g., maintenance trucks, promotional vans)

The next five columns (Category, Sub-Category, Manufacturer, Model, and Style) are dictated by how you've set up your Asset Settings. Refer to the exported settings spreadsheet for guidance on which combinations of asset values that Woven will accept.
The last four columns (Asset Tag Number, Serial Number, Date Purchased, Date Installed) are specific to individual assets. For instance, a specific massage chair will likely have its own asset tag number, serial number, and the dates it was purchased and installed.
A few important notes about the columns:
The below columns are required, so each asset must have an accepted value under these columns:

Type
Category
Asset Tag Number

The "Asset Tag Number" column has one requirement that differs from the rest of the columns. Each asset tag number must be UNIQUE. In other words, you cannot have two assets at the same location sharing the same asset tag number.
To help make sense of the spreadsheet, here's a color-coded version listing 7 assets that we could import for one location (assuming updated Assets Settings).
The first row in yellow shows the appropriate column headings in the correct order.
TROUBLESHOOTING: Woven will not accept a CSV spreadsheet of assets if it doesn't have the column headings typed and ordered exactly as shown in the snapshot above.
The next two rows in green represent two Pro-Form treadmills purchased on February 11, 2020, and installed on February 15, 2020. Note how each of these treadmills has its own unique asset tag number and serial number.
The next two rows in blue represent another two Pro-Form treadmills of the SMART PRO model but this time with the 5000 style (previous two assets had the 2000 style).
The next two rows in pink represent two HVAC assets of the Mechanical type. These assets have different models but no style listed (the "Style" column is not required so this is OK). Note how these assets were also purchased on February 11, 2020, but installed on February 16 rather than February 15.
The final row in purple shows a vehicle asset. It's "Sub-Category" cell is blank as is its "Date Installed" cell (again, this is OK since neither of these columns are required).
Once you've added all your assets for one location in the spreadsheet, save your spreadsheet as a CSV file (when saving the file, choose "CSV" as the file type). Now you're ready to import your assets for this location.
Importing your Assets
To import your assets for a location in Woven:
Select "Assets" from the MAINTENANCE menu.
Select the "Import Assets" tab.
Click the green "Start New Asset Import" button.
Drag and drop your CSV file into the "Drop File" box or browse and select your file by clicking the "Drop File" box.
Choose the location from the drop-down menu below the "Drop File" box.
If you have added warranties to Woven for any manufacturers listed on your import file and you want to tie these warranties to these assets, keep the "Yes" option highlighted. Otherwise, select "No."
Click the green "Validate File" button when you are ready to import.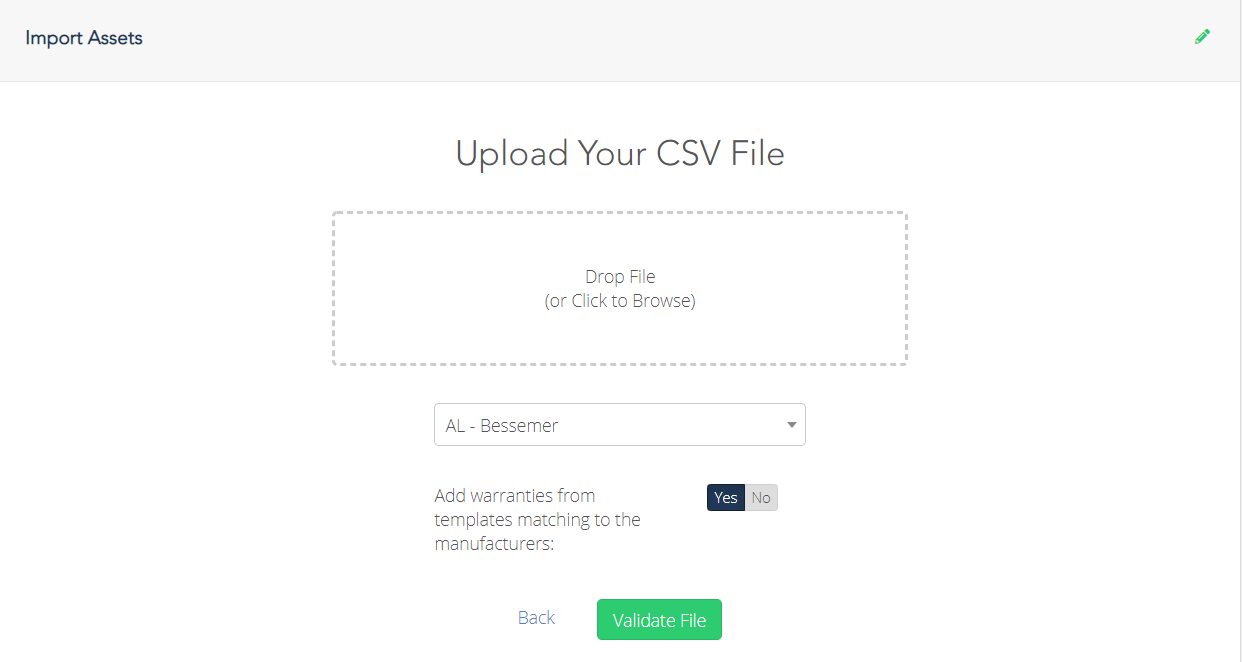 If there are any issues, Woven will detail the problematic rows along with a description of the issue. Otherwise, Woven will say that your file validation succeeded.
TROUBLESHOOTING: Woven searches for issues in stages, and each stage involves checking for data issues within a single column. Woven checks the first column, and if any issues, Woven lists the problematic row numbers. You should fix the issues for those rows under the first column then repeat steps 2 – 7 to resubmit the updated CSV file. Woven will then verify that you fixed the first column. If that column has the appropriate values, Woven evaluates the second column. If any issues for the second column, Woven will again list the problematic rows. You'll have to correct the data under the second column for those rows then begin the resubmission process. Repeat this until all data in all columns is deemed "validated." Once validated, you can complete the asset import process.
Click "Import Assets" to finish importing the assets.
PRO TIP: To add more information to each newly-imported asset (e.g., the room number where the asset is located, its purchase price, expected life in months), you can individually select that asset from the "Assets" tab to navigate to its page.